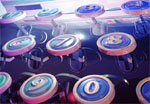 Scanning and Text Recognition
Convert paper-based documents and scanned images into editable text!
Optical character recognition (OCR) is the process by which the computer takes a scanned image of a page of printed text (either from a typewriter, printer, or other such mechanical forms of printing), and translate the page from a graphic format to one of plain text.
SKY Binary Art provides specialized scanning and character recognition services. We can convert any paper document into an electronic file for archival or Web use. We also can scan and convert complex graphics and photographs. We can save these documents and images in a variety of graphic and word processing formats. We can generate complex documentation that can be edited and re-used. We can prepare graphics for use on the internet or intranet publishing. We can also convert documents and graphics file formats and platforms.
The scanning process is as follows: Documents are scanned and converted into graphics files. Then, these files are processed by OCR software to convert the graphics images into text or text with graphics, which greatly reduces the size of the files and allows the text to be edited and/or indexed by search engines, thus allowing these documents to be posted on the internet.

Prices and Delivery
Scanning and OCR prices depend on the quality and complexity of the originals and the total number of pages to be scanned. Prices typically range from as high as $2.00 per page to as low as $0.50 per page, with an average cost of approximately $1.30 per page or less. Prices can be reduced as much as 50% if no OCR processing is necessary.
These prices do not include any manual editing of the OCR results, which can increase costs substantially (often by 200% or more). However, because of the accuracy of modern OCR software (better than 95%, often approaching 99% or more), editing is necessary in only rare cases. If it is required that the electronic copy appear exactly as the original document, the Acrobat PDF file format can be used. Acrobat PDF is a commonly used electronic publishing format that can be used for archival and web publishing, and is compatible with web browsers. PDF files can be edited and may contain complex graphics and photographs. It is the format of choice for electronic and web publishing, and is already ubiquitous on the web. Most of our customers choose PDF format files, and it is highly recommended.
Our minimum cost is $100 for any job to cover overhead.
The scanning and text recognition (OCR) are available worldwide. We are located in Toronto, Canada. Documents can be shipped to us from any country, and turn-around is rapid, typically within a few weeks. We will return or destroy the originals at your request. Confidentiality is assured.
The electronic files can be delivered on CD ROM, DVD ROM, Zip disks, or via the internet (downloadable) or e-mail. Other options are available. Some of these formats entail an extra cost for media and labor.
Please contact us for any additional information.